Ayurveda is a medical system more than 5,000 years old.
Through natural methods, it supports both health prevention and treatment of various acute and chronic disease processes.
Whatever ails your body or mind, just make an appointment for a check-up so we can help you get back to being healthy and vibrant.
Holistic treatment has been used safely and successfully in both adults and children.
What diseases do we treat?
Ayurveda detects the disease with great accuracy in its infancy – long before symptoms appear.
Through nature-based methods, the medical system can affect a variety of disease states, including: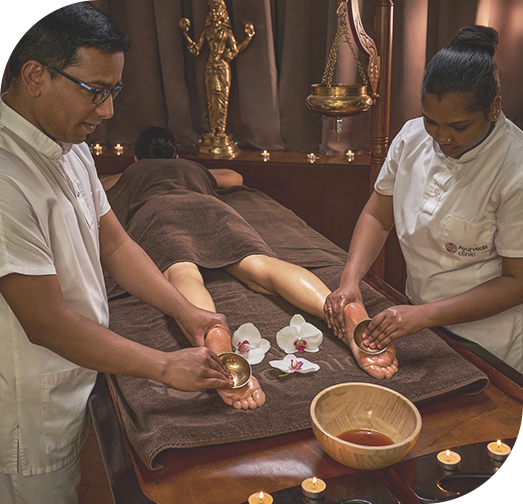 Principles of treatment and diagnosis with Ayurveda
Ayurveda is based on principles, prescriptions and therapies for a fulfilling lifestyle. They are based on the idea of a harmonious unity between body, psyche, feelings and mind.
For this purpose, an individual treatment approach is applied, based on the innate energy type of the body.
Herbal medicine, Ayurvedic nutrition, internal and external procedures are used to restore balance.
Why choose Ayurveda Clinic Sofia?
A complete process
The Sofia Ayurveda Clinic covers the entire cycle of necessary examinations, diagnostics and specialized therapies according to the authentic methods of Ayurvedic medicine.
Experience
Therapies at Ayurveda Clinic Sofia are performed only by experienced and highly qualified Indian therapists who previously practiced in Kerala, India.
Reliability
Dr. Mahesh Garje and Dr. Mohini Garje are medical graduates – graduates from the University of Classical Medicine and subsequently from the University of Ayurvedic Medicine.
Quality
In the treatment and therapies, only original herbal, natural medicinal products are used, produced in India and delivered exclusively to Ayurveda Clinic Sofia.
Price list of Ayurvedic procedures
Procedure
Initial examination
Secondary examination
Classical and Ayurvedic massage:
Classical massage
Ayurvedic massage
(The ayurvedic massage is light and aims to balance the energy in the body)
Book an appointment
and come to us!
At Ayurveda Clinic Sofia, specialized examinations, therapies and treatment are carried out on site, without downtime.
Do not hesitate to contact us to learn all the details and get all your questions answered:
Working hours
Tuesday – Sunday :
09:00 – 18:00
Address
Sofia, 1504,
Boulevard Yanko Sakazov 30
Send us an inquiry and we will reply as soon as possible.
"

Special thanks

Special thanks to Dr. Mahesh and his team for their efforts! I am very pleased with the procedures, Ayurveda really change the worldview! …


Ani Sav.
"

The level is very high!

The level of Ayurveda Sofia is very high! For years I have been teaching Ayurveda methods, and so far I have always had remarks. But not here. …

A. S.
"

A great clinic

A great clinic with great patient care. I would certainly visit again! …

Vanya S.
"

Thank you for the wonderful attitude

Thank you for the wonderful attitude, professional counseling, diagnostics and treatment! I wish you a lot of successes in the new year! …

Y. Yosifova
"

Special thanks to Dr. Mahesh

Special thanks to Dr. Mahesh and his team for their efforts! I am very pleased with the procedures, Ayurveda really change the worldview! …


Ani Sav.
"

You support a wonderful Blog

You support a wonderful Blog with very useful information. I have sent a request already and cannot wait to visit the clinic – I have ONLY positive feedback from my friends. …

Nadya N.
"

I cannot describe the pleasure

I cannot describe the pleasure and the energy that I am fulfilled after my visit to Dr. Mahesh. The Ayurveda medicine is phenomenal! …


A. Tsenkova
"

Very positive feedback

For the first time I visited Dr. Mahesh at the clinic in Bansko and I had very positive feedback on their Ayurveda treatment. It's great that they opened doors in Sofia and that they work all year round. I did not know it was possible, but the level is even higher! …

Mila S.
All reviews posted are 100% authentic.
The results achieved by our patients are individual, according to the disease and condition of each one of them.
They are further stimulated by the implementation of the balanced diet and physical activity program recommended by our doctors.