What does an examination at Ayurveda Clinic Sofia consist of?
In order to prepare as well as possible for the Ayurvedic examination and know what to expect, you can consider the recommendations described below.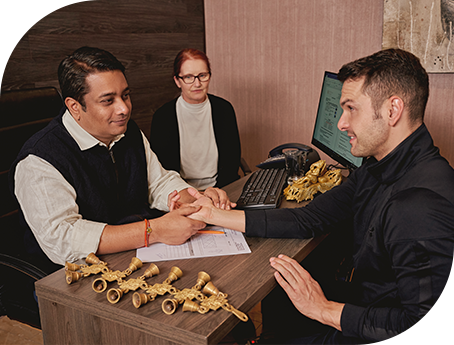 First of all, choose a convenient time and make a reservation in advance to ensure that it will be available.
• Do not come to the examination hungry – it is desirable that you have eaten an hour or two before it.
• Fasting examination is practiced only in the early hours before 09:00 am or on the recommendation of the Ayurvedic doctor.
• Before the examination you must not have consumed coffee, tea or alcohol, opiates or any substance that seriously impairs your general state of consciousness.
• It is advisable not to undergo dynamic physical activity for a few hours before the examination, so that your heart rate can be normal and calm.
• Before you come for a consultation, prepare your medical documents, if you have them. This includes tests, blood tests, imaging, etc.
• If you are taking nutritional supplements, medications, or any other type of medication, write them down or carry them with you so we can keep track of them.
• It is not recommended to use opiates or other substances seriously disturbing your general state of consciousness before the examination
The Ayurvedic doctor does not speak Bulgarian, so you will be provided with a competent translator. If you speak English, you will be able to discuss your condition directly with the doctor.
It is important to be calm and open so that we can get as much information as possible about your condition related to your medical history.
The Ayurvedic doctor will conduct a pulse diagnosis of the left and right wrists of the hands.
You will be asked additional questions to make a connection between the pulse characteristics and your specific condition.
The Ayurvedic doctor will give general and personalized recommendations for changing your lifestyle. These will be recorded by the translator and printed after the review is complete.
If questions or ambiguities remain in any aspect of the review, it is advisable to ask them on the spot.
You will also receive a prescription recommendation of medicinal Ayurvedic products that you can purchase from the clinic.
To achieve the desired effect, it is advisable to strictly follow all the recommendations that you will receive. Please inform us if you plan to change something or want to use another non-conventional treatment method in parallel.
• The intake of Ayurvedic medicinal products is prescribed only by the Ayurvedic doctor and only for you. Do not change the dosage or the time of administration without notifying the doctor.
• If you experience discomfort that is not usual to you, please let us know so we can correct the condition if it is related to the treatment you are receiving.
Ayurvedic therapy lasts a minimum of 3 months. Be patient and persevere to achieve full impact on your condition.
Here you can make 
your reservation in Ayurveda Clinic Sofia